Team
home > team > current members: graduate students > mirjam susanne van de vliet
Mirjam Susanne van de Vliet
Research Technician

CCMAR
Faculdade de Ciencias do Mar e Ambiente (F.C.M.A.)
Universidade do Algarve
Campus de Gambelas
P-8005-139 Faro, Portugal
E-mail: mvliet@ualg.pt

Tel : (351) 289 800 900 ext: 7262
My main research interest is conservation genetics of a range of terrestrial animals, but currently I am focussing on amphibians. I have started a PhD project in which we will use a metapopulation approach to assess the influence of landscape features and alterations on amphibian population persistence. I have developed microsatellite markers for three amphibian species (*), inhabiting temporary ponds in Mediterranean agricultural landscape. Mediterranean temporary ponds are highly endangered by widespread degradation and loss due to agricultural intensification and increasing urban use causing amphibian habitat loss. In this research project we will use microsatellites to identify metapopulation structures, source-sink dynamics, barriers to migration between subpopulations and assigning individuals to their most likely population of origin. The observed patterns can help identify possible threats and migration barriers influencing population persistence; information which can help proposing accurate conservation and management actions for temporary ponds in the Mediterranean landscape.
* Parsley frog (Pelodytes punctatus), Western Spadefoot toad (Pelobates cultripes), Sharp-ribbed Salamander (Pleurodeles waltl)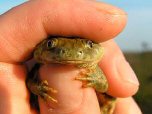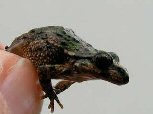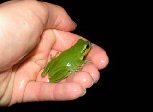 Education
1992-1997 Master of Science in Biology, specialized in Population Genetics, Faculty of Science, University of Groningen, The Netherlands.
Projects
Development of microsatellite markers for the Euroasian Badger (Meles meles). Supervisor: R. Bijlsma and L. van de Zande
Analysing the genetic structure of Dutch Badger populations Supervisor: R. Bijlsma
Research Project: Variation in clutch size and laying date in the great Tit (Parus major). Supervisor: Dr. J. Tinbergen
Research Project: Evolutionary origin, proximate causal organisation and signal value of displays in Shelducks. (Tadorna tadorna). Supervisor: Dr. A.G.G. Groothuis
Literature Study: influence of stress on reproduction of animals. Supervisor: Prof. J.M. Koolhaas
1988-2003 - First degree teacher in Biology and Science for senior highschoolstudents.
2003-2006 - Working as a technician molecular genetics. Faculty of Marine Science, University of the Algarve,Portugal.
2006-present - PhD project: Population genetics of amphibians inhabiting Mediterranean temporary ponds. Supervisors: Pedro Beja, Ester Serrão, Nuno Ferrand, Trevor Beebee.